From the glowing twinkle of holiday lights to the warm glow of the fire inside, every host wants their guests to have that magic sparkle only found this time of year with family and friends. But with all the shopping, planning, parties and parkas, who has time to do everything? I think it is fair to say that everyone has stuff fall through the cracks. I wish I could duplicate myself to get it all done!
I know decorating for the holidays can be overwhelming, and I definitely have to practice restraint when walking in awe of all that glitters while shopping for my clients' homes. But not everything has to come from an exclusive boutique. Sometimes we just need a little DIY to marry those precious nostalgic pieces with the stylish decor of our dreams. I wanted to share what I have found helpful for both me and my clients this time of year. Do you have any DIY tips that have totally changed your holiday decorating game?
Planters
Setting the tone for your decor during the holidays begins before you even enter the front door. Build your outdoor planter with 90% greenery, and finish the last 10% with holiday decor that you can remove and still have a beautiful planter to enjoy until the spring. Both beautiful and thrifty!
Tabletop
Family meals are the focal point of so many holiday traditions. Layer, layer, layer for a luxurious effect on your dinner table. Try starting with a table runner, then add placemats, chargers, large plate, and a small plate on top.
Wreaths, Mantles & Banisters
Start with a good quality yet simple greenery garland and then add your own ornaments and lights that match your specific decor. Get creative! Use bows to highlight your colour palette, or keep it minimal with small, solid coloured accents.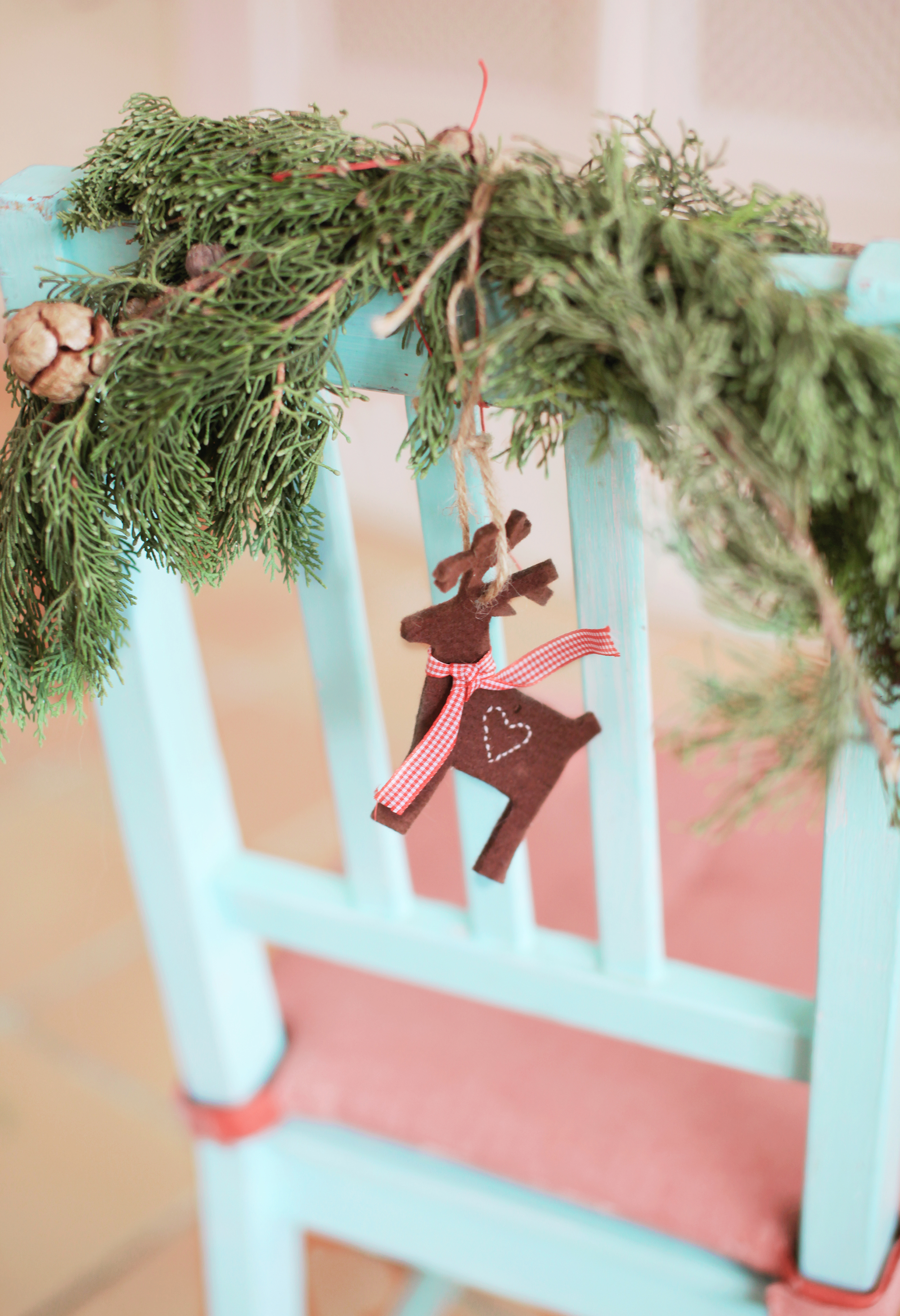 The Tree
For a beautiful and consistent theme, try simplifying your palette by using 2 or 3 colours for all ribbons, ornaments AND wrapping paper. A monochromatic selection of similar hues is especially stunning. For our tree last year (featured on bottom, below) I chose mixed metals and red, and coordinated all the trimmings!
Personalized Stockings
This is my favourite holiday tip. After scouring for the perfect stockings last year, and charmed by the personalized ones, I decided to make my own when nothing really worked for me. The "embroidered" names are actually cut by me from felt and glued on to these darling gold sequin stockings. To make them, I created a stencil using a font I liked in any word processing program. With some trial and error I found the perfect size and traced the names onto the felt, cut them out and used a strong fabric adhesive to attach it. Super easy, with huge effect!
The holiday season gives us every reason to indulge in all things luxurious. But indulging doesn't have to invite chaos. Your home can be a curated reflection of your own style, with just a few easy tweaks. I hope in sharing these ideas we can send a little warmth into your home, and joy in your space.